LEC STEEL MANUFACTURING CORPORATION


No. 1 Ligaya St., cor. A. Bonifacio St., Balintawak,

Quezon City 1106 Metro Manila, Philippines


Phone: (632)3622443
TOYO Fire-rated UL Door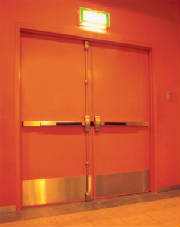 (Click to enlarge.)
For more than 30 years, LEC STEEL MFG CORP (LSMC) has been setting the stadard of quality in the Philippine architectural metal products industry. They are the leading manufacturer of Fire-rated Steel Doors and Frames (UL labelled) and Roll-up doors making their brand name "TOYO" synonymous with "superb quality".

LSMCs product is very well accepted by the majority of the buying public, be it a commerical establishment, a high rise residential or office condominium, an airport, food processing and bottling company, manufacturing company, hotel, mass transportation, broadcasting and communications industry, etc.


Our Products include:
TOYO Steel Roll-up Doors
TOYO Fire Rated Doors
TOYO Transparol
Custom Steel Door
Automatic Garage Doors
Automatic Swing and Sliding Gates
TOYO Disappearing Fire Escape Ladder
TOYO Toilet Partitions
TOYO Garbage/Linen Chutes
Fire and Smoke Curtains
We are proud members of the following organizations:

By joining our mailing list, you will be the first to know about:
Breaking news about our business
Helpful tips
Exclusive special offers
To join, type your email address below and then click the Go button.
LSMC Staff Webmail (click here)
LEC STEEL MANUFACTURING CORPORATION
No.1 Ligaya St., Cor. A. Bonifacio St., Balintawak
Quezon City 1106, Metro Manila Philippines
Phone:(632)3622443 Fax:(632)3612410